Forty Years Ago........
Blogger Ref
http://www.youtube.com/Searle8
Yesterday, marked the passing of David Munrow. A brief programme on him, and most notably some of his music was heard on BBC Radio Three. It can be found at the end of a programme on Young Musicians
http://www.bbc.co.uk/programmes/b07b26qg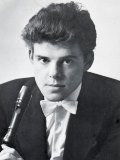 PS Just by chance I heard the above...as it is not billed as a "separate" entry on the BBC Radio website.