The tragic story of the man who inspired millions to love music

As Radio 3 re-run episodes of their landmark 1970s music series for children, Pied Piper, we remember its presenter - early music specialist David Munrow
What's the best way to inspire children to take an interest in music, and is there any value in doing so? If there is, what kind of music is best?
Those kinds of questions have dogged parents and scientists for decades, each new study providing different answers.
Does listening to Mozart really boost your brainpower?
asked
BBC Future
in 2013 in response to a widely misunderstood
report from 1993
, which didn't actually declare that there was a "Mozart effect" - the idea that infants will become cleverer if they're exposed to classical music. In fact, just about any kind of music is good for children of all ages to listen to, and a much broader
2006 study
suggested pop (
Blur
!) was just as effective as
Mozart
.
If you liked music when you were a kid, you already know that it benefitted you. The conundrum is how to interest children in music, and for that there a multitude of initiatives around for parents to investigate, including the BBC's
Ten Pieces
.
Back in the 1970s, before mass media, life was simpler. One man was given a show on
Radio 3
called Pied Piper: Tales and Music for Younger Listeners and a whole generation was tuned into a wild variety of sounds - classical, pop, world music, baroque, ancient, electronic. Easy, right? Give the right person the airwaves and the rest falls into place. Sure, but you'll need to find a broadcaster as erudite, brilliant and energetic as David Munrow, and that's no easy task.
Pied Piper was broadcast on Radio 3 between 1971 and 1976 - a staggering 655 episodes in total, all presented by Munrow - and as part of their 70th anniversary celebrations they're re-running five episodes this week during the interval of
Radio 3 in Concert
(they're
online
too). For the uninitiated, it offers to chance to hear a master broadcaster at work, covering subjects as broad as
Bach
, English conductor and impresario
Sir Thomas Beecham
, brass and military bands, string quartets and music inspired by the stars. You'll learn a lot, whatever your age, because although Pied Piper was angled towards children it had a trick up its sleeve - the series was so well put together, it appealed as much to adults and had an average listening age of 29.
Munrow's love of music was life-long. He taught himself the bassoon in two weeks while still at school, before travelling to Peru, where he learned other instruments, and then studied at Cambridge in the 1960s. The breadth of his knowledge ensured he could present with devastating clarity, never cramming too much into an episode and always letting pieces of music play to a decent length, so they were enjoyable as well as illustrative. His touch was light-but-learned, fun and informative and he knew the power of stories to engage young minds. Here's how the episode (above) on Sir Thomas Beecham, grandson of the founder of the pharmaceutical company Beechams, begins: "Do you know which famous English conductor was born in St Helens, Lancashire, belonged to a family who made a fortune in pills, enjoyed cricket, chess and billiards, used to sing bass in a madrigal group and once practised the trombone in a rowing boat right out in the middle of a Swiss lake?"
In the first of the five episodes to be broadcast (below), Munrow picks out a phrase in Bach's Brandenburg Concerto No. 3, composed in the early 18th century, which he tells listeners sounds like someone saying, "Jolly good! Jolly good! Jolly good! Jolly good!" Then, to prove that "most people today would agree that Bach is one of the greatest composers there's ever been - even today's pop musicians listen to and study Bach because they find it full of excitement; they find it an inspiration", he plays the section of prog rock band
The Nice
's Ars Longa Vita Brevis from 1968 that includes a version of "Bach's jolly good tune".
Renaissance man
Pied Piper came to an end in 1976 because Munrow took his own life, aged just 33. He suffered from depression, which was possibly exacerbated by the recent deaths of his father and father-in-law, to whom he dedicated his only book, Instruments of the Middle Ages and Renaissance. He also presented the TV programmes Ancestral Voices on
BBC Two
and Early Musical Instruments on ITV, but it was Pied Piper that left the most dramatic mark on a generation. Among its fans are Sir Nicholas Kenyon, managing director of the Barbican Centre and former controller of the
BBC Proms
, current Radio 3 controller Alan Davey, and Tom Service, whose excellent, cross-genre
Listening Service
series on Radio 3 conjures up the cavalier spirit of Pied Piper for a 21st century audience. Writing about Munrow in BBC Music magazine, Service says: "Munrow's scarcely credible output of 655 - six hundred and fifty-five! - editions in around five years is one of the most preternaturally brilliant and prolific of any broadcaster in recorded history."
And yet there are huge swathes of music fans who best remember Munrow not for his broadcasting career, but as a musician and recording artist. It seems almost impossible to believe, but in his 33 years he also released over 50 albums that it's not an exaggeration to say they changed our understanding of music history by spectacularly throwing a light on, most notably, the medieval and renaissance periods.
Munrow's interest in what is loosely termed 'early music' began at Cambridge when he discovered a crumhorn (an early wind instrument) hanging on the wall in a friend's room. He learned to play it and later, according to his collaborator
Christopher Hogwood
, mastered some 42 other instruments from different times in history and different places in the world. A group he formed,
Early Music Consort of London
, became highly influential, their many albums managing to combine the strictures of ancient music with the free-flowing experimentation of the 1970s. Just as Canadian pianist
Glenn Gould
had managed with Bach in the 50s and 60s, Munrow made old music sound bracingly modern and he won an audience not just with classical buffs, but rock fans, too.
The Early Music Consort's The Art of Courtly Love won a Grammy in 1977 for best Chamber Music Performance, and Munrow also scored for TV and film - including, with
Peter Maxwell Davis
, Ken Russell's The Devils (1971), starring Oliver Reed.
The Munrow legacy
The final episode of Pied Piper to be broadcast this week (above) examines music inspired by the solar system and includes Munrow discussing astronomy with Sir Patrick Moore. We can guess that Munrow would have been thrilled to know that a piece of music performed by the Early Music Consort - The Faerie Round from
Anthony Holborne
's Pavans, Galliards, Almains and Other Short Aeirs - was included on the
Voyager Golden Records
, which were sent into space in 1977. That's quite some achievement, and just one example of Munrow's extraordinary legacy.
Have we become genre-blind in the way we listen to music now? Radio 3 controller Alan Davey thinks so,
telling the Sunday Times in 2015
: "Young people are ­growing up with an open mind about various kinds of quite ­complex music." Munrow foresaw that, instilling a sense of sonic adventure in the minds of people who heard the Pied Piper series in the 70s and now have considerable influence on the way music is presented, curated and broadcast to us now. "Today," Tom Service writes in BBC Music magazine, "Munrow would have taken advantage of the technological possibilities of our musical world in ways that we can only imagine." He was a futurist as well as an archivist, who left the universe of music vastly expanded in all directions for the benefit of those who came next.
Related links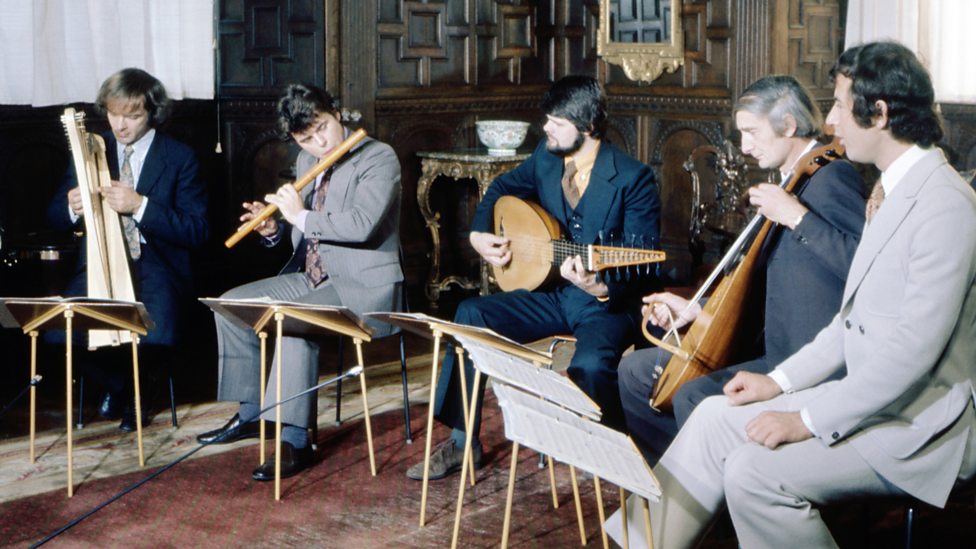 David Munrow (second left), playing with (left-right) Christopher Hogwood, James Tyler, Oliver Brookes and James Bowman